Back to e-Citadel
(Be sure to scroll down!)
Nasreddin Hodja is Turkey's (and perhaps all of Islam's) best-known trickster. His legendary wit and droll trickery were possibly based on the exploits and words of a historical imam. Some of the stories have a moral, some do not. Some have to be read twice. Some are hilarious. All will serve to remind us of our time in Turkey.

Nasreddin reputedly was born in 1208 in the village of Horto near Sivrihisar. In 1237 he moved to Akshehir, where he died in the Islamic year 683 (1284 or 1285). As many as 350 anecdotes have been attributed to the Hodja, as he most often is called. Hodja is a title meaning teacher or scholar. He is frequently compared with the northern European trickster Till Eulenspiegel.

The many spelling variations for Nasreddin include: Nasreddin, Nasrettin, Nasrudin, Nasr-id-deen, Nasr-eddin, Nasirud-din, Nasr-ud-Din, Nasr-Eddin, and Nasr-Ed-Dine. The many spelling variations for Hodja include: Hodja, Hodscha, Hoca, Chotza, Khodja, and Khoja.

Use the "previous" and "next" navigation at the bottom of the story to read another tale.

NB: Most of the stories are suitable for children; I have given a few I thought some may deem offensive red titles in case you wish to skip past those with your kids/grandkids. As always, it's more fun for kids with a parent or grandparent as chaperone and helper on the hard words <g>.

Ankara alumni thank John Stuck '68 for sharing his copy of One Day the Hodja by Murat Hikmet with us, with illustrations by Muammer Bakir, as part of our source material.

More Hodja Stories! I planned to put more Hodja stories I'd found up here, but on second thought the way they are already done is pretty nice, so following are links to lots more stories!

Many more Hodja stories are available here. Nasreddin Hodja is a collection of Hodja stories compiled by Alpay Kabacali, beautifully illustrated by Fatih M. Durmus, and published by NET. It also contains a historical introduction to the stories (well, to the extent that anything historical can be written about the Hodja), and a bibliography. The rendition is a simple one, but the essence of Hodja humor is nicely captured, especially by the illustrations.

And more are here

... and here

and a beautiful treatment including lots of background are here.

04/21/06

---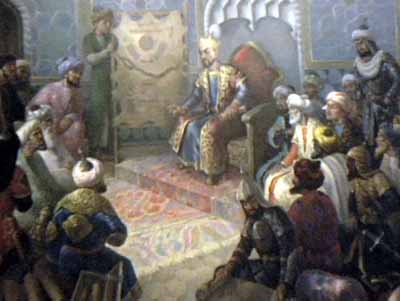 Tamerlane
(1336-1405)
Tamerlane, the Turkic Tartar conqueror, the most influential Central Asian conqueror of the Middle Ages, restored the Mongol empire of Genghis Khan. Widely known for his vicious treatment of enemies, he is often placed somewhere between Hitler and Saddam Hussein for his ruthlessness.

It appears that although Nasreddin Hodja and Tamerlane were not exact contemporaries and it is unlikely that he personally knew or served him as some of the Hodja stories suggest, yet many of the Hodja stories developed during a time when the Turks were under the heavy hand of that emperor, so it is natural that Tamerlane should make his appearance in these stories. It is true that he was fended off near Ankara from attacking Istanbul, so it is quite possible that he was master of the area around Akshehir some years after Nasreddin Hodja's time.

You may notice that the headdress in the illustrations included in the Hodja tales display a strong similarity to the headdress depicted of Tamerlane and his men in the graphic above, and also to the shape of the Amir Timur Museum in Tashkent in the photo at right.


04/09/06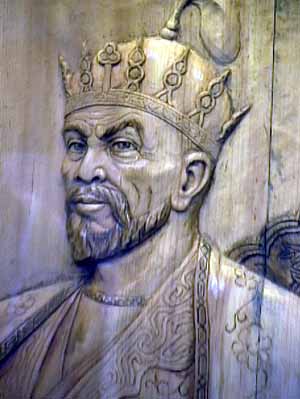 (Click to view image full size)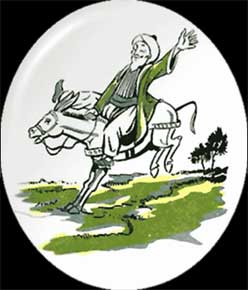 Go directly to a favorite Hodja tale (opens in a new window) ...
Stories from One Day the Hodja
(Second Enlarged Edition), 1962

by Murat Hikmet
Illustrated by Muammer Bakir