Welcome to the '59 Vapor Trails!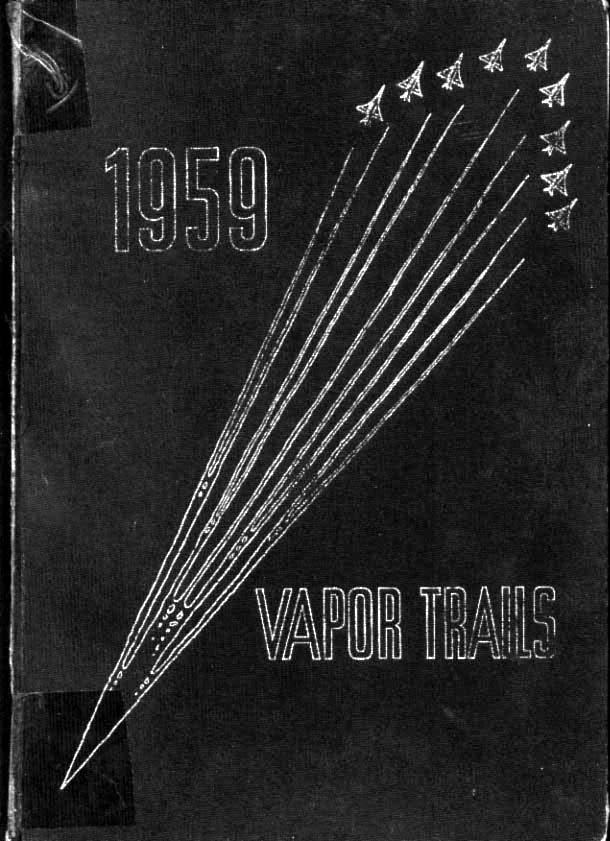 The school was seeing many improvements this year - new lockers, new gym, new cafeteria, new typewriters, clocks, a fence for the playground. A history not only of the school but for each class - the yearbook staff provided more lore for us to explore!

Look for our friend Nasreddin Hodja making occasional appearances. The Senior Class sold Christmas trees to fund the Sno-Ball Dance (remember dressing Santa?), and the gala event of the year was the product of much hard work from the Junior Class, the Junior-Senior Prom! It seems there were so many dances - the Valentine Dance, practicing the Boston 2-Step for the Hard Times Dance... (I'd sure like to know where that one came from!) Of course, it wasn't all dancing and goofing around - there were finals and college board exams, too, but fortunately we don't have to even think about those any more!

Kudos!

Thank you to Chris White '60 for the original scans. A second thank you to Meg Stieg Dalton '59 for loaning her yearbook which was re-scanned by Jill Park Doyle '71.
---
---
Top Ten Songs of 1959
1. What'd I Say - Ray Charles
2. I Only Have Eyes For You - Flamingos
3. Mack The Knife - Bobby Darin
4. There Goes My Baby - Drifters
5. Shout - Isley Brothers
6. Kansas City - Wilbert Harrison
7. Poison Ivy - Coasters
8. Money - Barrett Strong
9. Love Potion No. 9 - Clovers
10. You're So Fine - Falcons
---
Contact:
Shiela Weaver '67
Created 8/18/05
Re-scaned 2013
Copyright © 2005-2013
e-Citadel.com
All rights reserved.