Welcome, '57 graduates and visitors! This yearbook has been through some life and times, alright. According to its donor, it made it through a house-fire only slightly damaged!
There are so many interesting features in this yearbook, be prepared for some extra links. Dedicated to "the people who are so bravely and valiantly fighting and giving their lives for the cause of freedom ... ," it is as fresh and timely today as it was when first issued. With quotations throughout following the general theme of freedom, it is inspiring as well as entertaining. Here are just a few: FDR on "the four freedoms," Lincoln on those who deny freedom, and a definition of the history of the world by Hegel.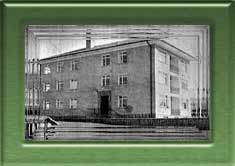 A short history of the school beginning with the arrival of the first American families in 1949 is available by clicking the picture at right.
The AAEA Arabs basketball team earned the first Second Place trophy for the school under the leadership of volunteer coach MSgt. Blake. The whole story is available here.
The Konusmaker's "Spinal Column" and comic strip on worm life sound hilarious, and I hope someone out there may still have a copy to share with all (just click on my icon at the bottom of this page to contact me).
Even the school play, "You Can't Take It With You," ends on an up-note with "the freedom to be an individual" triumphant.

Top 10 Songs - What a Year!

1. Jailhouse Rock - Elvis Presley
2. Whole Lotta Shakin' Goin' On - Jerry Lee Lewis
3. That'll Be the Day - Crickets
4. Bye Bye Love - Everly Brothers
5. Great Balls of Fire - Jerry Lee Lewis
6. School Day - Chuck Berry
7. Rock and Roll Music - Chuck Berry
8. Peggy Sue - Buddy Holly
9. Lucille - Little Richard
10. Rockin' Pneumonia - Huey "Piano" Smith

1. The Ten Commandments
2. Around the World in 80 Days
3. Giant
4. Oklahoma!
5. Pal Joey
6. Seven Wonders of the World
7. Teahouse of the August Moon
---
Created 02/04/06
Re-scanned 2013
Copyright © 2006-2013
e-Citadel.com
All rights reserved.