The 2009 Citadel
Destination: Imagination
This yearbook celebrates the Third Culture Kid and their nomatic life style. According to the Editor, Samyaka Verma, "GMC's student population is a map of the world from where they are from, where they've been and where they are going." Samyaka created Suzie, a character with hair exploding from her head in all directions and styles. You can follow Suzie as she travels through this imaginative yearbook.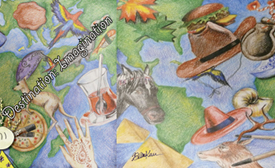 Click image to view larger size
Kudos to yearbook staff, Terence Douglas, Samyaka Verma, Kevin Celik, Michael Zachau Walker, Maighdlin Doyle and Melis Ozaltin.
Table of Contents
The 2009 Citadel - Destination: Imagination


Gallery

(Thumbnails of each page)

Yearbook Covers




Editor's Note

Dedication to Najet Ayachi

Student Life

Faculty

Seniors

Juniors

Sophomores

Freshman

Sports

Clubs & Activities

Middle School