Welcome, Trojans!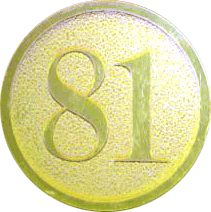 Class Poem
We can walk our roads together
If our goals are all the same.
We can run alone and free
If we pursue a different aim.

Armed with sense and liberty,
Sensibility.

Let the truth of love be lighted,
Let the love of truth shine clear.
With the heart and mind united
In a single perfect sphere.
NEW!!! I just received a box containing some more yearbooks, and these two Trojan Tattlers were tucked in between. A big Ankara hug to Melanie Tyson (Carrier) '82 with our gratitude for her contribution - thank you so much for participating in the project, Melanie!
The Senior Class Poem is scattered throughout the Senior picture pages in the '81 book. I wasn't sure of the flow, so I will be happy to adjust it if the yearbook editor, Billy Walters '81, would like to elucidate... It's a bit difficult to read here on e-Citadel, as it was produced in white text on a black background, so I thought it would be good to put it on the front page.
Billy solved one mystery for us already, when he wrote to let me know the inside cover of the book was not, as I had imagined, somewhere in Turkey, but was a nice inside cover offered by Taylor Publishing Company which he found preferable to the standard blank pages. We still love Generic River, though! Thank you, Billy! Click here to see the '81 Citadel staff, and on the next page, notes from Billy and the faculty advisor, Mr. Atchison, followed by a few more parting candids.
I should also clarify that this book happened to be a library copy, so there are no autographs in it other than what contributions may have been made by young visitors to the AHS Library and might have escaped my notice. Don't miss the photos of scenes around Turkey!

Kudos!
Charlie Brown '89 has done it again, with this Library copy of the 1981 Citadel. Thank you so much, Charlie - a(nother) great big Ankara hug goes out to you from all of us!
Finally, I'd also like to extend a çok teşekkürederim to Rich Koster '81, who also kindly offered to scan for us.
1. Betty Davis Eyes - Kim Carnes
2. Endless Love - Diana Ross &amp Lionel Richie
3. Lady - Kenny Rogers
4. Starting Over - John Lennon
5. Jessie's Girl - Rick Springfield
6. Celebrate - Kool & the Gang
7. Your Kiss Is On My List - Darryl Hall & John Oates
8. I Love A Rainy Night - Eddie Rabbitt
9. 9 to 5 - Dolly Parton
10. Keep On Loving You - REO Speedwagon
---
Updated 1/30/06
Created 9/11/05

Copyright © 2005, 2006
e-Citadel.com