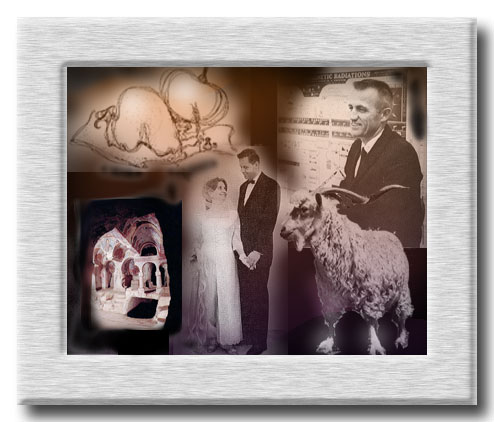 New! Once again I must repeat - this '69 group is really amazing! Received from Bill Tucker '69, a great black and white photo of the entire graduating class! See below right for a link to the photo. Be sure to use your magnifier-cursor to see the full-size version. Thank you for sharing with all of us, Bill!
---
The very earliest book I've seen with any color pictures! Explanatory text on a central index page describing the locations are essential to full appreciation of the special color section (click tab above) devoted to several gorgeous color photographs. Artwork abounds in this volume - the "Hodja and the Hittites" by Suzi was such fun. Oodles of pix of Ankara and environs. There's a bustling Ankara street scene, and even a great picture of gypsies with their dancing bear!
We have previously enjoyed Derrill Browning's ('69) later work assisting his sister's '71 graduating class to produce the "comic book" (paperback) for the '71 Citadel and enjoyed his great description of how it came to be. Well, he made his debut as expert in layout and design for this book, even contributing poetry (check the inside back cover). I guess you could call it a "Browning enterprise" with three Brownings on the Citadel staff! Very classy job, Derrill. Especially considering you even had to hold a "Color Page Light Show and Dance" and even a pickle sale to raise the money to include some color pages! I especially liked the poem by Larry Fisher on page 148, so much that it just might become my personal favorite.

And, it was a big, BIG year... Ms. Dumlu and Mr. Klatt got married. Mr. Brown our tenacious chemistry and physics teacher, retired after 25 years. After reading about his background, career, enthusiasm for teaching and plans to visit Africa, I could only think it must have been easy for the Citadel staff to decide upon Mr. Brown that year. "Residence Hall" (uh, dorm? well, they tried to change the name, I guess!) students had the opportunity to meet President Sunay. An archaeologist spoke to the art and history classes about work being done near Sardis. This is not even to touch upon the sports - now a new ski club? Wow! Oh, yeah, and keep a sharp eye out for the Nixon button...
Kudos!

Big Ankara hugs to Tim ("Timmy Lee") Pruett '71 (whose sister also appears in this book) for loaning me his '68 and '69 yearbooks - thank you, Tim!
---
Top Ten Songs of 1969 1. Whole Lotta LoveLed Zeppelin 2. Proud Mary Creedence Clearwater Revival 3. I Want You BackJackson 5 4. Honky Tonk WomenRolling Stones 5. Bad Moon RisingCreedence Clearwater Revival 6. Suite: Judy Blue EyesCrosby, Stills & Nash 7. Dazed And ConfusedLed Zeppelin 8. Gimme ShelterRolling Stones 9. Come TogetherBeatles 10. I Can't Get Next To YouTemptations

---

Updated 1/11/06
Created 5/27/05
Copyright © 2005, e-Citadel.com
All rights reserved.