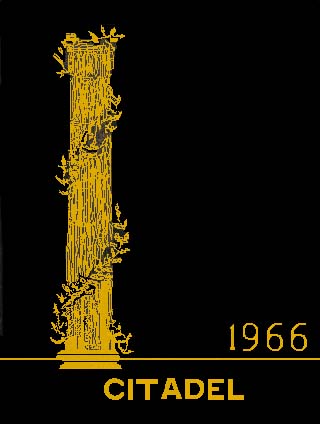 Welcome!
Finally and at last! We've waited some time for the arrival of the remainder of the '66 book, but I think you'll find it's been worth the wait. All these years I've had this edition of the Citadel, but just realized that it was put together in a different order. Other books put the Seniors first after the introductory material, this one has them as the climax, leaving it a toss-up which is better. Why don't you decide?

From the House of Bernarda Alba to the Hootenanny, from the Halloween Carnival to the Tug-O-War, the '66 year was jam-packed with events. We hosted Astronauts Gordon Cooper and Charles Conrad, Jr. from the Gemini-6 mission and rocked at the Sadie Hawkins Day dance - and who could forget the omnipresent Mr. Root and his daily announcements over the PA system?!
Kudos!
I'd especially like to thank Steve "Wray" Woolley for his special treatment providing the Seniors pages. I'd thought of re-scanning the section, but who could improve on the great job he did? So it might seem a little confusing to visit the Seniors pages as they are in a slightly different style, but I've given the Seniors cover page the familiar green drop to click to return to this page, so hopefully you won't get lost - just use your "Back" button if necessary.