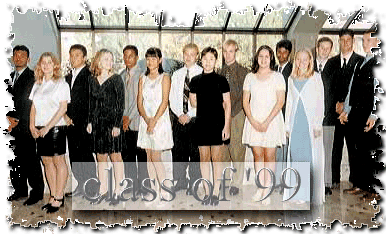 Another jam-packed year at GCM! Due to a workers' strike lasting from July 23rd to September 29th, students, parents and faculty got directly involved in preparing the school to open on time and in great shape. The Fall Carnival kicked off the year in great style. Soon after, parody scenes from Medea and A Streetcar Named Desire were presented by Mr. Huber's thespians (later taking awards for them at the European Drama Festival), followed by 8th grade bake-sales, Spirit Day was wacky as always, and Homecoming was a great success. And ...

... Road-trips! Trojan coaches and basketball teams, wrestlers and cheerleaders all kept very busy. Wrestlers made it to Mannheim, Germany for competition, and , and the Trojan soccer team traveled there, too, for the Division III European Soccer Championships. Last but not least, the women's volleyball team made it to the European Championships in Alconbury, England for the first time in Ankara history, where they proved their worth yet again!

But road trips were not limited to athletics. Eight students traveled to Oberwesel, Germany for the "Creative Connections" workshop, and six students traveled there in March for the European Drama Festival. To cap off the wins, two students were chosen to attend Honor Choir in Weisbaden and Thomas Flagg returned with the award for Most Talented Musician of the ten schools competing. Ahhh, GCM - always a source of Trojan pride!
Publications class raised enough money to produce the yearbook in full color. Another amazing feat was pulled off by the journalism classes - normally a quarterly, the Jolly Green Giant newsletter was distributed every single month! Along with the Marshall Memo and the journalism students' Literary Anthology, the school really had communications covered! Thank you all, for your hard work and dedication to keeping the lines open - although you may never have imagined the book would become an internet e-production as well, here it is for the ages!

Thanks also to Anita Donohoe '66 for donating this, one of a collection of eight yearbooks, to the e-Citadel project! Thank you, Anita, for giving us all back some fond memories of George C. Marshall life and times!