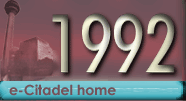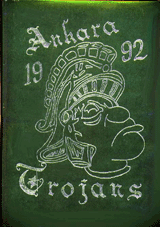 Hoş Geldiniz!
Welcome, Alumni and Friends! You will find out as soon as you visit the Gallery that this is one huge yearbook! With almost 200 pages packed with collages of candid photos of every class, a section for the elementary school, and a full faculty section, this book is a real treat you won't want to miss!

Each Senior left a message to the class of '93, and their baby pictures, pictures of them with their friends, pictures of them enjoying their favorite activity are included with their choice of Senior picture, making this yearbook very personal and fun to visit and revisit.

Don't miss the first President Bush and First Lady, the great pictures of the Junior-Senior Prom, our lovely Trojan mascot (see one picture of her at right - there's another in the book as well), even some really nice pen and ink drawings by Carolina Kaufman (I've combined two of the roses as the horizontal bar used on this page) and colorful coloring-book style pictures in the elementary pages. You may also spot Marilyn Monroe! There are no page numbers and very little text - the pictures tell the story of that great year at AHS.
Çok teşekkürederim!
Thanks to Anita Donohoe '66 for donating this, one of a collection of eight yearbooks, to the e-Citadel project! Without her efforts and those of our other donors, lenders, and scanning participants, e-Citadel would not be here for all of us to enjoy. Thank you, Anita, for giving us all back some fond memories that are only ever a click away!



Top 10 Films
1. Aladdin
2. Home Alone 2: Lost in New York
3. Batman Returns
4. Lethal Weapon 3
Animal House
5. A Few Good Men
6. Sister Act
7. The Bodyguard
8. Wayne's World
9. Basic Instinct
10. A League of Their Own

Top 10 Songs

1. Smells Like Teen Spirit - Nirvana
2. I Will Always Love You - Whitney Houston
3. Mysterious Ways - U2
4. Under the Bridge - Red Hot Chili Peppers
5. Rump-Shaker - Wrecks-N-Effect
6. Black Or White - Michael Jackson
7. Jump Around - House of Pain
8. End of the Road - Boyz II Men
9. Tennessee -
Arrested Development
10. Tears In Heaven - Eric Clapton

Updated 2/22/06
Created 11/15/05
Copyright © 2005
e-Citadel.com
All rights reserved.