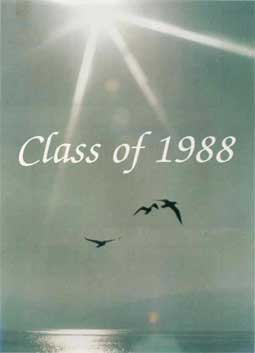 The yearbook staff has done it again! With Section Editors, Co-Editors from each class, and an excellent sponsor in Mr. Dan Stahler, sales were brisk, I'm sure.
With so many participating, it's easy to understand how football was (I'm sure inadvertently) missing from the Sports section, although the other sports are covered very well. Another year full of wins - Ankara took 1st or 2nd place in all the sports featured in the yearbook, I might add! G-o-o-o-o Trojans!
Jam-packed with candid and gorgeous full-page photos like the one seen here at right, this book is a fun trip for all alumni to browse. And it's always fun to read the autographs to be found in most of Charlie's copies - you're nice to share them with us, Charlie.
We always welcome selections from the International Review, from the Junior and Senior High Literary Yearbooks, and photos of the plays and other events of the year. Just send them to me at e-Citadel with the email links to be found on any cover page!
Çok teşekkürederim!
Charlie Brown '89, thank you so much for another wonderful contribution to the e-Citadel archive. How you were able to obtain so many of the yearbooks is beyond me, but I'm sure glad you did! Big Ankara hug to you, Charlie - well done! Thanks, too, to Travis Sondgeroth '90, who had offered to donate this yearbook.
We'd like to thank Business Manager Kent Klatt as well for what must have been a gargantuan task - judging by the Advertising section, which is HUGE, Kent must have really been a go-getter. There are several sponsors I haven't seen make an appearance before. He is no doubt the primary person behind obtaining enough funding to put together this huge, full-color yearbook. We also have "K. Klatt" to thank for the intimidating Trojan on the cover - I don't want to "assume," and I'm hoping someone will clarify which K. Klatt that might have been, since I do know Kent and Khan both attended AHS. Please write me if you know, and be sure to check out the e-Citadel Guestbook!
---
1. Faith - George Michael
2. Hungry Eyes - Eric Carmen
3. Got My Mind Set On You - George Harrison
4. Never Gonna Give You Up - Rick Astley
5. Roll With It - Steve Winwood
6. So Emotional - Whitney Houston
7. Kokomo - The Beach Boys
8. Anything For You - Gloria Estefan & Miami Sound Machine
9. Hold Onto the Nights - Richard Marx
10. Simply Irresistable - Robert Palmer

1. Rain Man
2. Who Framed Roger Rabbit?
3. Coming to America
4. Big
5. Twins
6. 'Crocodile' Dundee II
7. Die Hard
8. Cocktail
9. The Naked Gun: From the Files of Police Squad!
10. Oliver & Company
---
Created 9/25/05

Copyright © 2005
e-Citadel.com